Blog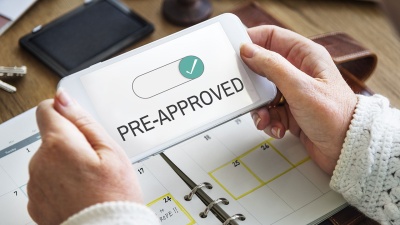 So, you're thinking about buying your first home? It's an exciting time! But before you hit the payment to start shopping there's a few things you need to know. Understanding your budget should be one of the first steps in the home buying process. You'll also certainly want to get
pre-approved for a mortgage
before you start house hunting.
Why Should I Get Pre-Approved First?
Getting pre-approved will save yourself the grief of looking at houses you can't afford and put you in a better position to make a serious offer when you do find the right house. And the good news is,
g
etting pre-approved
for a mortgage isn't hard. It does require you to submit a number of documents to your lender. Luckily, these days you can do everything online.
Greenway's online pre-approval application
takes less than 5 minutes.
Some commonly requested items are:
BORROWER IDENTIFICATION
A state-issued photo ID driver's license or identification card. A valid passport will also suffice.
TAX DOCUMENTS
This is a standard document for mortgage pre-approval. So, there's a 99% chance you will have to provide tax documentation at some point. Most lenders want to see your W-2 statements and tax returns for the last two years. Among other things, your W-2s show how much money you earned over the previous year(s).
BANK ACCOUNT INFORMATION
Your lender will review 2 months of bank statements for each of your bank accounts. Make sure to include investment account statements and all pages of your statement, even if they are blank.
PROOF OF INCOME
These mortgage documents are needed to validate your income for pre-approval and underwriting. Usually, it's your two most recent pay stubs.
EMPLOYMENT VERIFICATION
You will need to provide the names and addresses of previous employers' over the last 2 years.
PLACE OF RESIDENCE
This one is self-explanatory. For pre-approval and underwriting purposes, the lender wants to know where you've lived for the last couple of years. If you currently rent you will be required to provide your landlords name and address over the last 2 years.
SELF-EMPLOYED DOCUMENTS
Do you run your own business? If so, you might have to provide some additional documents during the mortgage pre-approval process. This might include balance sheets, a profit-and-loss (P&L) statement, or federal tax statements for the last two years.
REALTOR AND ATTORNEY CONTACT INFORMATION
Note: This is just a generic list of mortgage pre-approval documents. It includes some of the most commonly requested items. Depending on your situation -- and the type of home loan you are using -- you might be asked to provide additional documents that are not on this list.
WATCH OUR FIRST-TIME HOME BUYER VIDEO HERE TO LEARN MORE
Helpful Resources: