HomeReady™ Mortgage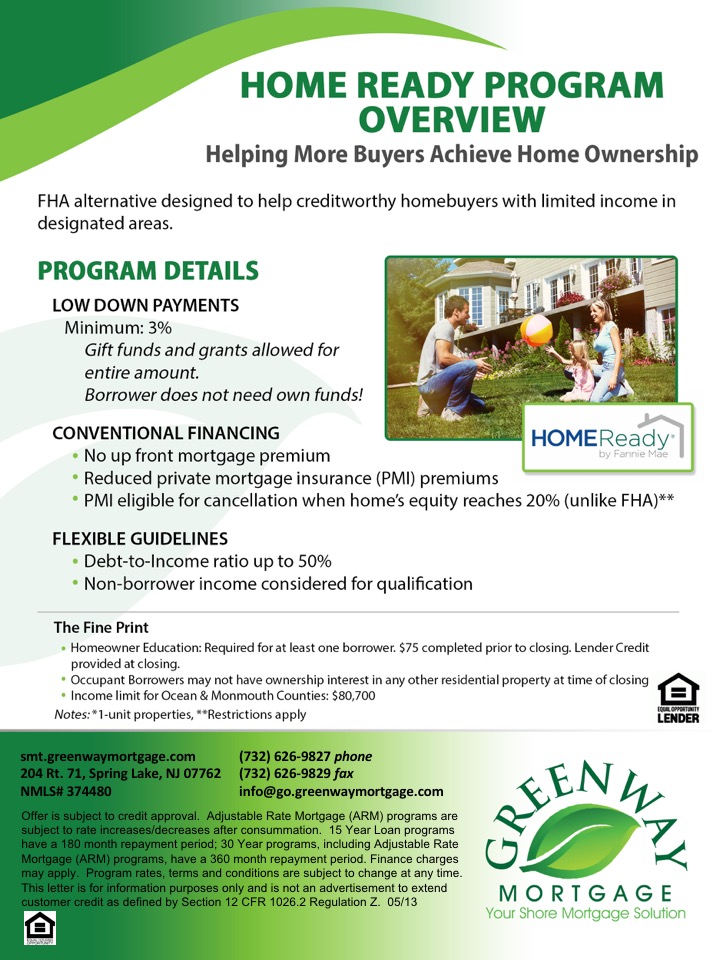 What is the HomeReady™ Program?
HomeReady™ is an FHA alternative designed to help creditworthy households in lower-income neighborhoods and designated areas get easier access to low-down payment mortgages at today's current rates.
The program allows a downpayment of just 3% on a home and permits gift funds and grants for the entire amount. This means that income from grandparents, parents, relatives, and working children can all be used to help qualify for a home loan and that borrow does not need their own funds.
The program also features no up-front mortgage premium and reduced private mortgage insurance (PMI); which, unlike the FHA, is eligible for cancellation once the home's equity reaches 20%.
The Fine Print
Homeowner Education: Required for at least one borrower. $75 completed prior to closing.

Occupant Borrowers may not have ownership interest in any other residential property at time of closing

Notes: *1-unit properties
Eligibility requirements, exclusions and other terms and conditions apply.
If you think you're "HomeReady" based on the requirements above, please complete the form below and one of our loan officers will reach out to help you get on the path to home ownership sooner than you dreamed.