USDA Home Loan Program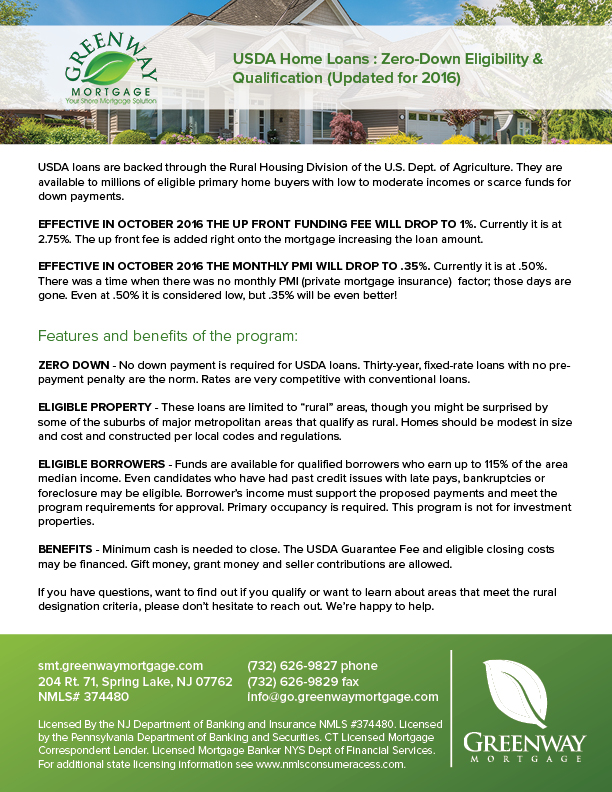 Greater affordability and Increased purchasing power with USDA programs.
USDA loans are backed through the Rural Housing Division of the U.S. Dept. of Agriculture. They are available to millions of eligible primary home buyers with low to moderate incomes or scarce funds for down payments.
EFFECTIVE IN OCTOBER 2016 THE UP FRONT FUNDING FEE WILL DROP TO 1%.
The upfront guarantee fee is currently at 2.75% but will be reduced to 1.0% of the loan amount.
EFFECTIVE IN OCTOBER 2016 THE MONTHLY PMI WILL DROP TO 0.35%.
The annual fee is currently at 0.50%. While the monthly PMI (private mortgage insurance) factor is considered low, at 0.35% it will be even better!
Why USDA?
No Down Payment
Lower-Than-Market Interest Rate
Low Monthly Private Mortgage Insurance (PMI)
Flexible Credit Guidelines
Ability to Finance Upfront PMI
Reduced MI Costs
Greater affordability
Increased purchasing power
This USDA fee reduction is great news for first time home buyers that often have little money to put down on a home. The USDA mortgage is still 100% financing with secure 30-year fix rate terms.
Still have questions about the USDA home loan program?
Speak with one of our loan officers directly at with (732) 626-9827 or complete the form below to have one of our loan officers reach out to you.