Testimonials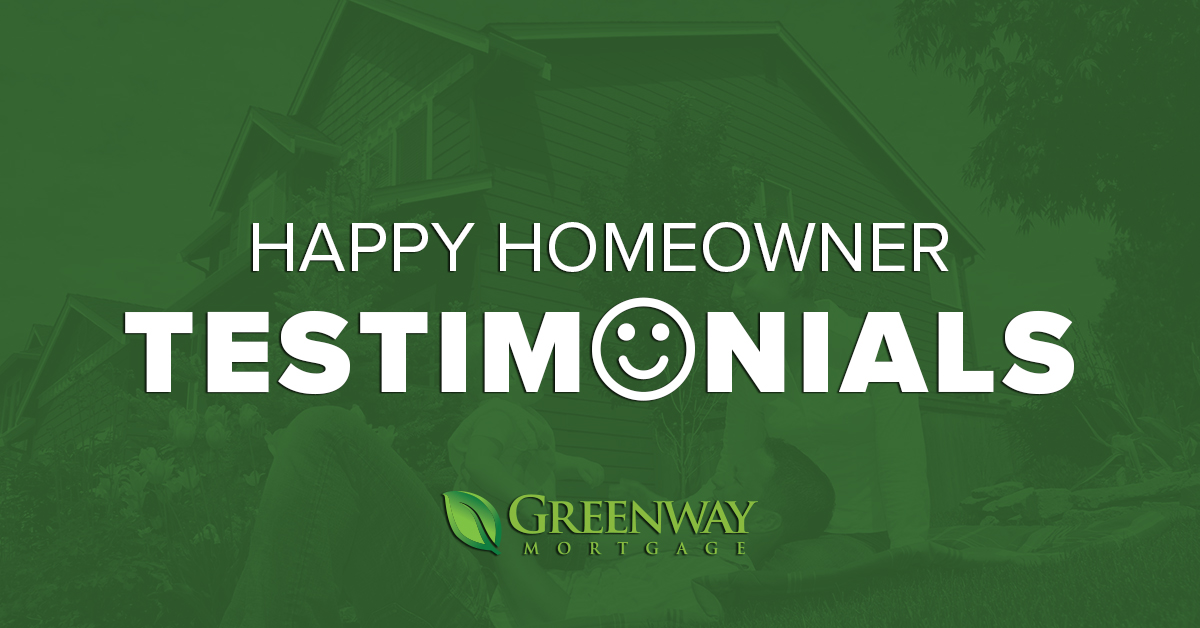 Kind words from a satisfied client are the greatest reward for a job well done. We've created this page to highlight the great feedback we receive.
"After not owning a home for quite awhile, my husband and I decided to become homeowners again. We were referred to Erin Carvelli by a good friend and we can not thank him enough. Erin was awesome right from the first phone call to her, felt so comfortable talking with her about our concerns and she put our minds at ease immediately and I never doubted her for one second. Her team is just as great as she is. Everyone was so on top of things that we actually closed on the date that was on the original contract and as any homeowner knows that isn't usually the case. I want to thank Erin and her team very much for such an awesome job and trust me I will be referring you to anyone I know looking for a mortgage, I actually already have on facebook so I hope they are smart enough to reach out to you. I also must add how professional they are as well. Thanks again!!!"
Jennifer from Wall, NJ
---
"Erin was great! Very responsive to both my husband's and my questions (no matter how trivial). Always pleasant to talk to. Broke things down so that they made sense to us as new homebuyers. The process was very easy as we were able to upload all our documents online. Erin kept us informed with any changes or missing paperwork. The process was actually much easier than I expected. I would 100% recommend her to anyone looking."
Nkechi from Raritan, NJ
---
"Erin was great to work with! Super responsive and knowledgeable. I am recently self employed so we were fighting an uphill battle to get qualified for the mortgage we needed. Erin got creative to make it happen! Cannot say enough nice things about her and Greenway."
Christopher Wirth from Wall, NJ
---
"Erin was a pleasure to work with- she's extremely responsive, engaged and knowledgeable. I highly recommend her to anyone in need of a mortgage/refi!!"
Joel Scardelli from Wall, NJ
---
"We closed on our new Shore house with Erin as our lender once again. She along with her staff were a pleasure to work with and met all our needs. We have worked with Erin on our last 4 properties and have been pleased each and every time we worked with her. Would not hesitate to work with her again in the future."
ksmccann88 from Berkeley, NJ
---
"After being referred to Greenway by a coworker, I was a little hesitant going with a smaller and more local mortgage company as I had only dealt with the larger banks. That hesitation was quickly removed once we started our refinancing process. Erin and her team could not have done a better job handling our refinance, while always keeping us informed. Whenever I had questions (I had plenty), no matter how big or small, they were always answered promptly and with great detail. When our appraisal did not go as planned, Erin and her team were able to come up with some unique solutions after exhaustively defending our position.
I cannot thank Erin and her team enough for handling everything so smoothly. I would without a doubt recommend Greenway to anyone."
scott riedemann from Neptune, NJ
---
Dick Stafford is the best. He was not only great in helping & guiding me through the whole process, he was fun to work with!
– Matthew Caverly
---
The loan process is very involved but Greenway has always managed to get me through it and for that I am grateful to the team!
– Charlene Parker
---
---
Erin was great and worked with my husband and me very closely. We always knew what to expect and what was next in the process.
– Laura Wilson Grooms
---
---
We had an amazing experience. Vince and the team were extremely knowledgeable and helped throughout the entire process.
– Jerry Gomez
---
If you need your dreams to come true, Vince from Greenway is your solution. They will run an extra mile for you to make sure your dream will come true! Thank you, guys!
– Angel Velez
---
"Erin as always delivers great experience and customer service. Purchasing a home is a very stressful time and she makes the experience enjoyable while providing expert advice."
– Donald Cooper
---
---
---
"Erin and her team are very knowledgeable, efficient, courteous and timely. Would use again for all of our mortgage needs."
– Susye Ferullo
---
I was expecting the mortgage process to be tedious but you were very knowledgeable, highly efficient, and made it simple. It was great that you were able to work with my circumstance to get the number just right so we could close.
– Doug Frew
---
---
Everyone was great and so easy going. So stress-free and made everything so easy to understand.
Brian Santiago
---
EVERYTHING was done professionally, courteously and in a timely fashion. My loan was closed in less than 30 days, at the rate quoted. The team worked together seamlessly and even picked up documents when my time was tight. I'd highly recommend them to my realtor friends, family and anyone looking for a mortgage professional.
Exceptional timely and courteous service! I loved the videos they sent throughout the process. My calls and questions were welcomed and answered immediately. Refinancing was necessary for my divorce - they made the process stress-free and easy!
Mary Orr
---
---
---
Erin Carvelli was amazing! We just bought our dream home!
Casey Leigh
---
Erin was easy to contact and even responded on the weekends! She was wonderful!
Stephanie Brown
---
Christie Clementelli, Erin Carvelli and Laura Wicks are all rock stars! They are an awesome team and easy to contact even after hours. This made our loan process so much more personal. I will gladly recommend you guys to anyone we know is looking to buy a house.
Benny Cardona
---
Ralph and Christie were awesome. Made an impossible deal possible.
Alex Ortiz
---
Yes, you really did. My mortgage advisor was guiding me every time even during weekends and holidays season. That was the best part I liked.
Syed Shah
---
Super easy to do, all calls/emails promptly returned. Couldn't be easier. And you got rid of my PMI!
Ian Larkin
---
Erin Carvelli and Christie Clementelli are the best, we could not have asked for better people to work with...kudos to them both for getting us closed so fast!!
Gretchen Johnson
---
I've known and worked with Vince for 20-25 years on a professional basis. He's always honest detailed and thorough. He just pulled out a nearly impossible deal! Anyone who is thinking of or is working with Vince should know that they are in good hands.
Pete Maimone
---
Erin and her team got the mortgage approval quicker than I ever would have thought possible. She was great to work with!
Donna Sierchio
---
Erin and her team went over and above the norm in procuring our mortgage. Their patience in putting up with my lack of computer skills was a blessing.
Jim Ryan
---
Erin is nothing short of amazing. She has truly gone above and beyond in all aspects of our mortgage process starting from day one. She was always available (even through a Hurricane), answered every single call, email or text and never came across as bothered from all our questions. She truly made our dreams come true by being able to own a home and we couldn't be more appreciative of her and her team. We would HIGHLY recommend Greenway!
Jillian Wagner
---
Dick Stafford is The KING of his profession!!!!!
Richard Stuck
---
If not for Debbie Yeck and Greenway Mortgage, we likely would not have a home right now. I was educated on every aspect of the mortgage process and was truly treated as a valuable customer rather than a number. Our loan officer provided exceptional service and I couldn't be more pleased with the process. I will be recommending Greenway to anyone looking to purchase a home.
Michael Mastrella
---
Erin and Christie were extremely helpful through the entire process. Everything was completed in a timely manner and the line of communication was always open.
Daniel Marsh
---
Erin Carvelli and Laura Wicks were great! They were very patient with me and all my questions. I'm truly grateful for all their help.
Rebecca Velez
---
Everyone was pleasant, patient and helpful...Anthony Tobia was a pleasure to deal with and very informative.
Debra Torsiello
---
I was dreading the process of applying for my mortgage. Erin and her staff took away my dread. Their knowledge, patience, and kindness made getting my mortgage a fast, easy process.
Marianne Nuccio
---
Our experience with Erin and her team was excellent. They are knowledgeable and efficient. Everything is done in a timely manner and their ability to use digital documents, etc.. makes things very easy.
Ann Marie Callahan
---
It was a great experience. Debbie Yeck made sure everything went smoothly.she was so professional and really went out of her way to make sure everything went quickly. Debbie is very knowledgeable and was able to expedite the process.
Nadine Kaiser.
---
Erin and her team were a Class A operation. It was the easiest closing and/or refinancing I have ever done. The team was extremely responsive - phone calls were returned within and hour of my message, they were always available to answer questions and review documents, they clearly explained all documents and the process. It was a very good experience and I would certainly use Erin and her team in the future.
Maria Naughton
---
Hi Erin and Christie,
We just signed all the closing papers, so are finished with our refinancing. Kevin and I would like to thank you for your efficient, professional assistance in handling our mortgage. You were both terrific! We will definitely recommend your expertise to others! Have a wonderful weekend and thanks again!
Ann Marie and Kevin
---
Hi Amy,
Moving in was such a great experience (a lot of work, but well worth it!). It is an amazing feeling to see our son running around and playing in his own room. We wanted to reach out to you as well and thank you for everything. It has been such a positive experience working with you and your team. Along the way, anyone we have dealt with asked us how we found you because all of the information was not only well organized, but the information was correct and we were told that was very rare to find. You did an awesome job! Everyone always says "having a baby and the process of moving are two of the most stressful things anyone will go through". We really cannot thank you enough for making this process as smooth and not stressful at all. If anyone we know is moving, we would gladly recommend you to anyone! Again, thank you for everything!
Helen, Ryan and RJ
---
Erin,
Thanks so much for all your help and for putting up with us. If I ever need to refinance or anything, you guys would be the
first to consider.
The closing went very smoothly, and I immediately put the rug you guys gave me. It looks really cute!
I just have a lot of mixed feelings right now. I left a house, which I lived for close to 20 years, and all my kids grew up in it, so although I'm very happy about he new place, this new phase in my life is a bit emotional.
Other than that, I really have to be thankful, especially for all the people who helped make this possible.
Thanks again and God bless both of you!
Belkis Cruz
---
Ralph and Erin.
Cathy and I just want to thank you for all of your help with our refinancing. This was a major decision on our part, and not an easy one. Cathy and I had talked about doing this for a year.
We had heard horror stories from friends that said it took 3 months to close, yet ours took less than a month...I believe 3 weeks!!
As we told you in person Ralph, Cathy and I couldn't be happier with our decision to refinance through Greenway, and we couldn't be happier with the customer service we received throughout the entire process!
Thanks again.
And if we ever have friends or family that wish to refinance or need a mortgage in the future, we will definitely recommend you.
Bryan and Catherine DeNovellis
---
Good Morning Erin,
Thank you so much for keeping us in mind and for being able to do this refinance for us. We are forever grateful. Wish you all the best and will definitely send you referrals. You will be highly recommended.
Thanks,
Mireicy Ditaranto
---
I am so grateful to have worked with a great team! You made my dream home come true!!
Gewn Gunter
---
Greenway gets a 10.
Sandra Jacobs
---
Hi Erin & Laura,
Thank you so much for all of your hard work and diligence getting our mortgage approved. I know we had a difficult situation.
We spent all day in our new house cleaning, priming the walls for painting and making plans for future projects. So much fun!!!! We met our new neighbors, and can't wait to have beers with them soon. Tomorrow we start the moving process.
We also wanted to thank you for the Home Depot gift card. We will definitely be putting that to good use!
All the best,
Brandi & Jeremy Johnson
---
Dear Erin,
Joe and I would like to thank you as well as Laura and Christie for all your hard work in getting our loan approved. All of you have treated us with the utmost professionalism and respect in a time where our stress levels are constantly being challenged. You are remarkable people in that your responses to our frequent and often "out-of-the-blue" phone calls were handled quickly and with compassion. Thanks for being a part of our new journey as we transition into our new home.
Sincerely,
Nancy and Joseph Parayos
---
All I hear from friends and family are horror stories about their mortgage companies. I wish I could get them all to talk to Erin.
-Kyle O'Connell
---
Greenway were on top of everything having to do with our refinance.
They made sure that we handed all of our paperwork in when we
needed to, and kept the whole process running smoothly. The entire
process went quickly and within several weeks we had a new
mortgage, with a great rate.
Ryan Taylor
---
The Greenway mortgage team were invaluable in helping us refinance our mortgage. They kept us on track during a busy time. With out their added attention we would not have been able to get everything through in time to take advantage of excellent rates.
Thank you!! -Irene Taylor
---
At hello, we found Greenway mortgage a place to feel comfortable and secure. Everyone made us feel at ease, and engaged us in a journey through the tedious financial process as we were a part of their family. Always prompt and courteous, Greenway sets the standard / benchmark for all others, as there were no kinks along the way, just a little frenzy on our part as the closing demands drew near. Erin, Christie and Laura are the A Team, they kept us sane through it all. Thank you for being a part of OUR lives.
-Nancy Brown-Parayos
---
The Greenway mortgage team were invaluable in helping us refinance our mortgage. They kept us on track during a busy time. With out their added attention we would not have been able to get everything through in time to take advantage of excellent rates. Thank you!!
- Irene Taylor
---
It truly was a sincere pleasure working with Erin. From start to finish, she was absolutely the best. She always was on top of everything and answered any questions or concerns we had immediately. We highly recommend her!!
-Megan
---
Erin was absolutely wonderful to work with! I bought my first home with her and she made the experience so smooth. I had a lot of questions about every step of the process, from understanding what types of loans I could apply for to the breakdown of the finances, and she was patient and thorough in her explanations. She was very efficient and easy to communicate with. I highly recommend her!
-Sara Rose
---
My experience with Gateway Mortgage, was excellent, Erin Carvelli, was professional, Erin was on top of her game, always ready to amswer questions and any concerns we might it had. I would recommend Greenway Mortgage to anyone. We are truly happy wirh the service we got.
-Tania Deltoro
---
We had a unique employment situation and Erin successfully closed our mortgage for us!
-Jessica Pelenski
---
Debbie Yeck could not have been more helpful or efficient..was by far the easiest refinance I have ever done!
-Russell Chapman
---
As many people know, purchasing a home is a stressful process. Greenway mortgage went above and beyond during each part of my mortgage process. From the application to closing each part was explained to me in detail and even videos were provided to show me how exactly the next step in the process worked. I would like to personally thank Erin for all of the work she did with my mortgage and being there day or night for this first time home buyer with a lot of questions. Thanks again Erin and greenway mortgage. I would highly recommend Greenway mortgage to everyone.
- Marc Potter