NJ Conventional DPA Program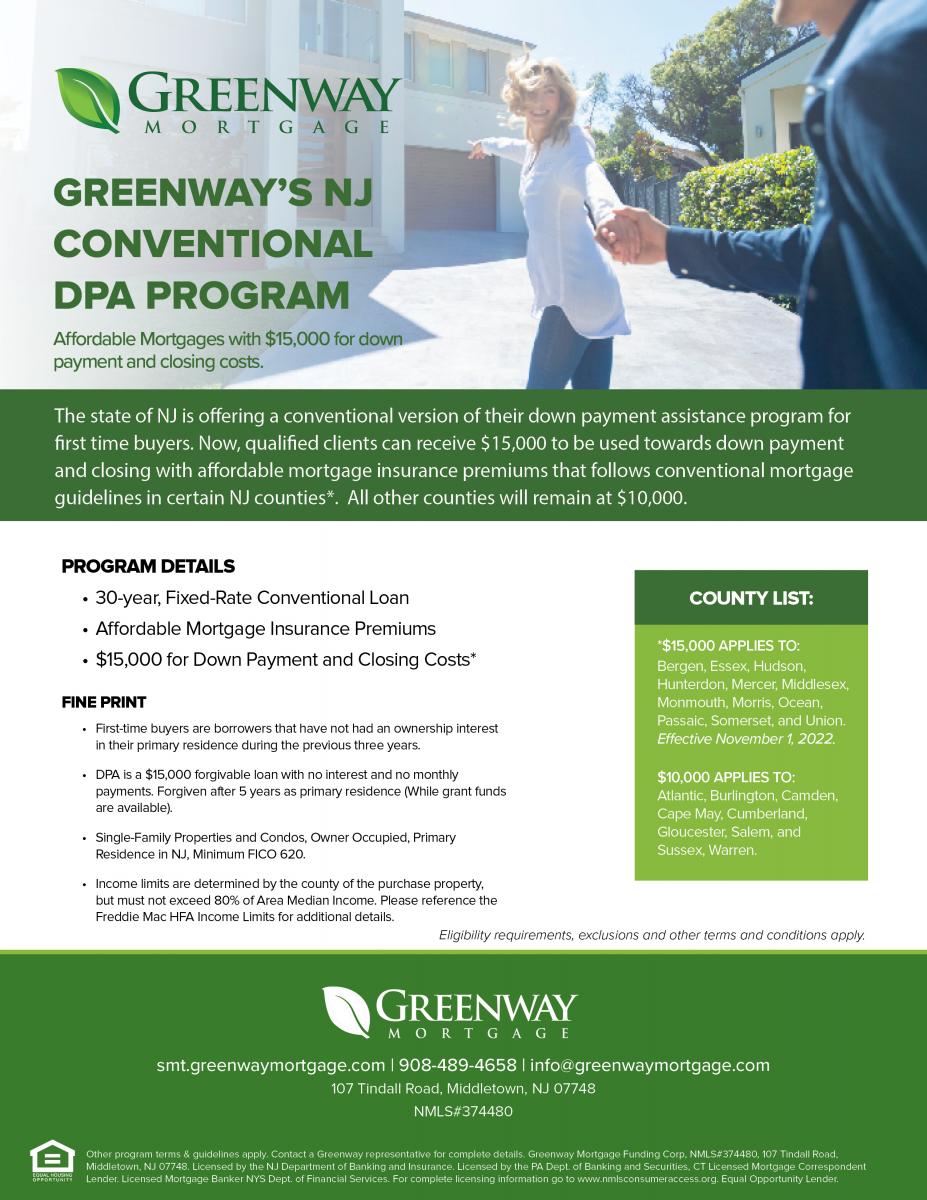 Greenway's NJ Conventional Down Payment Assistance Program
Affordable Mortgages with $15,000 for down payment and closing costs.
The state of NJ is offering a conventional version of their down payment assistance program for first time buyers. Now, qualified clients can receive $15,000 to be used towards down payment and closing with affordable mortgage insurance premiums that follows conventional mortgage guidelines in certain NJ counties*. All other counties will remain at $10,000.
Program Details
30-year, Fixed-Rate Conventional Loan
Affordable Mortgage Insurance Premiums
$15,000 for Down Payment and Closing Costs*
Fine Print
First-time buyers are borrowers that have not had an ownership interest in their primary residence during the previous three years
DPA is a $15,000 forgivable loan with no interest and no monthly payments. Forgiven after 5 years as primary residence (While grant funds are available)
Single-Family Properties and Condos, Owner Occupied, Primary Residence in NJ, Minimum FICO 620
Income limits are determined by the county of the purchase property, but must not exceed 80% of Area Median Income. Please reference the Freddie Mac HFA Income Limits for additional details.
County List:
*$15,000 applies to: Bergen, Essex, Hudson, Hunterdon, Mercer, Middlesex, Monmouth, Morris, Ocean, Passaic, Somerset, and Union. Effective November 1, 2022.
$10,000 applies to: Atlantic, Burlington, Camden, Cape May, Cumberland, Gloucester, Salem, Sussex, Warren.
Eligibility requirements, exclusions and other terms and conditions apply.
Have Questions about our NJ Conventional DPA Program? Fill out the form below.