Blog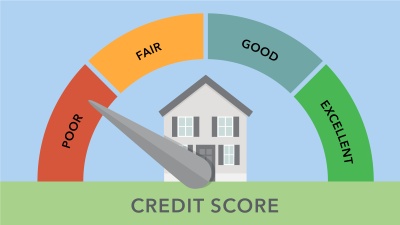 A credit score is a number that lenders use, along with other information, to determine if someone will qualify for a loan. An algorithm uses data in your credit report to calculate your credit score. Your credit report shows how much you owe, the length of your credit history, your payment history, new credit inquiries, and what kinds of credit you hold, such as mortgages, auto loans, credit cards and lines of credit.
Each of these factors carries a certain weight when calculating your credit score. Once the numbers are crunched, you end up with a credit score between 300 and 850. The higher the number, the lower the risk, and the more likely you are to qualify for a loan and a lower interest rate.
Why Is My Credit Score So Important?
Mortgage lenders and other lenders will pull your credit score when you apply for a loan. We use your credit score to predict risk. In other words, your credit score will help tell us how likely you are to continue to make your mortgage payment on time.
There are no universal standards for what qualifies as a good or bad credit score, or a minimum score for qualification. Lenders such as Greenway offer a number of loan programs to cover as many types of borrowers and scenarios as possible. These loan programs are issued by a variety of investors, who set guidelines that are used when loan applications are reviewed.
How Can I Find Out My Credit Score?
Consumers can request one free credit report per year from each of the three major credit reporting bureaus – Equifax, Experian and TransUnion. The bureaus will issue a credit score for a free. However, there is not one universal credit score. Different lenders use different credit scoring models for different borrowing purposes even though the information within the report is the same. That means you could get different credit scores from a credit card company and a mortgage lender.
These days, many monthly credit card statements include your current credit score. There are other services that will provide you with your credit score for free, but you'll probably be added to an email list and get bombarded with promotional offers. You could also get stuck in a free trial membership that automatically turns into a paid membership unless you manually cancel. You've probably seen ads for these companies on TV and online.
Keep in mind that it can be difficult to distinguish legitimate companies from scams and identity thieves. A legitimate company will never require you to provide credit card information. If you want to see your credit score, your financial institution is the best place to start.
Should I Review My Credit Report?
It's a good idea to take advantage of your ability to receive free credit reports. This allows you to go over your credit data in detail and look for errors, which can be caused by everything from security breaches to data entry mistakes. Any inaccuracies in your credit report could affect your credit score and your ability to qualify for a loan.
If you're planning to make a major purchase like a home and you're concerned about keeping your credit report clean, there are a number of credit monitoring services that charge a monthly fee to look for suspicious activity on your credit report. You'll then be notified immediately if such activity occurs.
You should also monitor your bank and credit card accounts on a regular basis and set up alerts so you're automatically called, texted or emailed if a purchase exceeds a specific amount or occurs in an unusual location.
Take the Next Step
Credit scores are a critical but sometimes confusing part of the mortgage qualification process. If you have questions, please contact us and we'll be happy to help.