Blog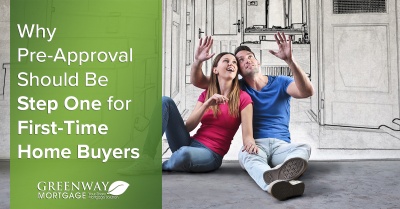 It's not uncommon for someone to come to us for a mortgage after they're already under contract to buy a home. Focus on the fun part first and worry about those boring mortgage details later.
Can you go this route? Yes. Is this the approach we recommend? No.
If you're planning to buy a home, especially as a first-time home buyer, you should talk to a mortgage lender before you talk to a real estate agent. It does no good to find your dream home if you can't afford it.
Some buyers will start with a pre-qualification. This is often done over the phone. A loan officer will go over the buyer's finances – income, debts, assets and other factors – and provide the buyer with a general idea of what kind of mortgage they would qualify for.
We always recommend going through the pre-approval process before you start house hunting. This is much more involved than a pre-qualification, but a pre-approval also carries more weight. A pre-approval involves filling out an application and gathering paperwork like pay stubs, W-2s, tax returns, bank statements and your credit report so we can verify your financial situation.
A pre-approval is a written conditional commitment that shows exactly how much you qualify to borrow. You may discover that you don't have as much buying power as you think, or you may have more buying power than you realized.
Either way, it's important to know how much house you can afford before you start house hunting. This will also speed up the processing of your mortgage application and help us recommend a program that fits your specific needs and goals.
Another advantage of a pre-approval is that it shows you're a solid, more committed buyer and less of a risk. This is appealing to both real estate agents and sellers, particularly when dealing with first-time home buyers who don't have a home to sell.
Suppose a seller receives an offer from you and someone else. You've been pre-approved but the other buyer hasn't. The seller will be much more likely to accept your offer because your offer isn't contingent upon obtaining financing. You've already been pre-approved.
As a first-time home buyer, do you need a pre-approval letter to shop for homes and make offers? No. It's not a requirement.
Will it save you time and stress, and position you as a more serious buyer? Absolutely.
If you're thinking of purchasing your first home, make a pre-approval "step one" in the process. Contact us and one of our loan officers will help you get the ball rolling.