Blog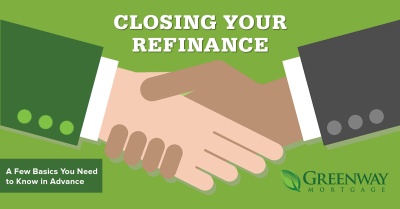 When closing your refinance there are a few basics you need to know in advance.
Your "payoff amount" is always higher than your remaining principal balance.
Your balance is the amount of remaining principal owed. Your payoff amount is the balance plus prorated interest from the last payment received until the loan is actually paid off.
The funding date is usually different from the closing date.
The government mandates a three-day rescission period for refinances of primary residences. Loan payoffs will not occur until the fourth business day post-closing. This will affect the payoff amount, the final payment date and the release of any cash.
Don't count on your existing escrow funds for closing.
If you have an escrow account for taxes and/or insurance, these funds will be held there until the current loan is paid off. Accordingly, unless funds for taxes due and/or a new escrow account are covered by the new loan, be prepared to advance this money at closing. It will typically take several weeks before your current escrow account funds are returned to you, so it pays to plan ahead.
As always, we're here to help you with your transaction and to answer your questions. We want you to be comfortable with the process and understand it fully. Never hesitate to reach out.