Blog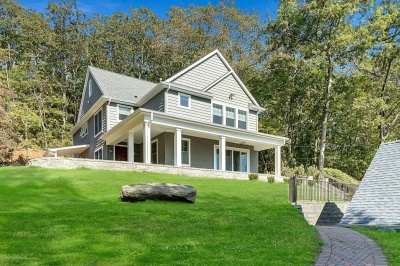 When Life Threw this Family Curveballs, Greenway Was Ready
Christine and Dan Kritch and their 3-year-old daughter, Kierstin, lived in a house built in 1922. The house was nestled on a beautiful half-acre lot in a great neighborhood but, like many older homes, it had very small rooms and just one bathroom. The Kritches made the difficult decision to sell their house so they could move into a larger home in a nearby town and enroll Kierstin in a better school system.
The Kritches contacted Erin Carvelli at Greenway Mortgage.
Erin had helped Dan with the purchase of his first home years earlier. The Kritches planned to go the conventional route, using the money from the sale of their home to make a down payment on a new home. They were pre-approved for a $600,000 purchase mortgage and put their house on the market.
And on the market their house sat. For nine months.
There were plenty of showings, but they received just one low-ball offer. After some negotiation, the Kritches weren't able to reach an agreement with the buyer. They dropped the price a few times, but the house still hadn't sold. Buyers were walking away for the same reason the Kritches were prepared to walk away – small rooms and one bathroom.
Erin sat down with Christine and Dan to discuss their options.
"We decided to stay in the house and do some renovations to make the house work for us," Christine said. "We like the area and the size of the property, and we had the option to enroll Kierstin in a private school, but we needed money to pay for the renovations."
Those renovations would be extensive – and expensive. The Kritches wanted to build an addition with a living room on the first floor and a master suite on the second floor. They also wanted to add a half bath, convert one of the small bedrooms into a laundry room, and add another bedroom on the second floor.
However, there are additional costs and requirements with this type of loan. Erin processed the mountain of paperwork that comes with a renovation loan, but they hit another roadblock.
"There was a lot of back-and-forth with the contractor to understand how to comply with the loan requirements," Christine said. "But when we saw what the monthly payments would be, we knew we had to come up with another option."
This would allow them to refinance what they owed on their existing mortgage while turning much of the equity into cash to pay for the renovations.
A cash-out refi
would also accelerate the renovation timetable and save the Kritches a lot of money each month. Once they decided to go with a cash-out refi, the process moved quickly and the loan closed with no issues.
Of course, it took about 18 months to get from the initial discussions about buying a new home with a conventional mortgage to finalizing the cash-out refi and staying put. Erin was there every step of the way.
"Erin was like my BFF for a year and a half," Christine joked. "I was constantly calling, emailing and texting her – everything but FaceTime. Erin replied every single time. She went above and beyond whenever a new issue came up, and she always had the information we needed to keep us on the right path."
Christine and Dan had a plan when this process started. But, as we all know, sometimes life doesn't care about your plans. Life throws curveballs. That's when it helps to have people in your corner who you can trust to help you through the rough patches.
As of this writing, demolition is just about done, and the remodeling and rebuilding is about to begin. Ultimately, the end result will be what the Kritches wanted – a larger home in an area they like, and good schools for Kierstin.
"After we closed on the loan, it almost felt odd to not be in contact with Erin every day," Christine said. "She has the patience of a saint and the knowledge to put my mind completely at ease. My family is very happy, and I can't
recommend Erin strongly enough.
"